In early October 2018, a landmark report from the United Nations Intergovernmental Panel on Climate Change (IPCC) released its findings outlining the impacts of global warming and the potentially devastating effects on livestock and water resources. The IPCC has urged we limit global warming to 1.5C above pre-industrial levels, warning against escalated temperatures of even half a degree, which would significantly worsen the risks of extreme heat, drought, and floods.
With shifting seasonal rainfall patterns and drought-related stresses, such extreme and unpredictable weather conditions may delay planting and harvesting; contribute to the dwindling productivity of crops and livestock, threaten the quality and quantity of production, and decrease land arability, according to the Union of Concerned Scientists.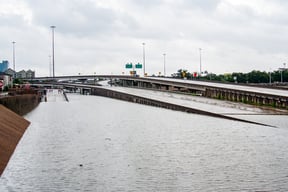 In 2017, Hurricane Harvey and the subsequent Atlantic storms resulted in major upheaval to global supply chains and, according to the National Hurricane Centre, caused $125 billion in damage. According to Reuters news agency, Harvey's impact rattled the heart of the U.S. oil industry, one of the country's most important economic sectors. Additionally, major connectors, including ports, railways and highways were closed, affecting key components of the U.S. manufacturing supply chain.
And climatologists support the theory that global warming contributed to Harvey's devastating impact.
So what do rising temperatures and extreme weather events mean for your supply chain and how are 3PLs supporting its customers during such uncertainty?
As global warming reshapes climate change and alters ecosystems, 3PLs in the food and beverage sectors are incorporating feasible, sustainable solutions to reduce their environmental footprint and to help support suppliers and their customers to build sustainable supply chains.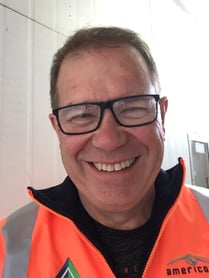 As a leader in a global company, Scott Eastwood, Americold National Quality and Compliance Manager, provides his take on this pressing issue.
Suggesting that organisations need to gain the full measure of the potential effects of natural disasters and weather events, Eastwood says the corporate community is preparing for change.
We understand where we are heading as a society, and we work closely with our commercial partners and facilities' teams to improve the storage and delivery of our customers' products. We do this in the most environmentally objective manner possible for the long-term benefit of our partners, said Eastwood. "We want to make sure that we abide by our own sustainability goals and efforts while supporting theirs."
If climate change is prevalent, what areas of disaster are we focusing on to support customers?
The National Climate Change Adaptation Research Facility frames eleven sections in its Policy Information Brief 2. We will look at three areas of focus from the brief that align with the food storage and transport industry, which are extreme weather events, adaptation in buildings and future stresses.
What adverse effects and changes does extreme weather have within our industry globally?
The massive increases in unpredicted and often extreme events create pinch points in storage management and efficiencies. Breaches in premises due to age and wear of facilities in Australia due to increased water levels affect the infrastructure and productivity of these facilities.
In 2011, floods from a weather event impacted Rocklea and Salisbury Brisbane. Numerous fresh food storage vendors at the Rocklea Markets and surrounding factories were destroyed and the product stored with it. These weather events were not predicted, but were cataclysmic.
In addition to infrastructure stresses globally, what are some additional difficulties?
The current droughts in Australia have lifted imports and placed an extra load on the environment by adding millions of food miles, affecting transport and creating additional inefficiencies.
What types of safeguards have 3PLs including Americold incorporated?
Construction design is now more resilient with buildings created to lower the risk of impact to the environment, allowing for quicker responsiveness to weather events, and incorporating flexibility in the event of an unrealised risk.
Beyond adaptations to existing and newer builds, Americold focuses on several types of energy-savings initiatives to support our customers' desires for an environmentally responsible supply chain, including measuring energy usage; implanting alternative energy options including natural gas fuel cells; motion-sensing LEDs; and additional partnerships that adhere to SMARTWAY guidelines.
Despite escalating temperatures what assurances can you provide customers?
"It's our ability to be flexible in adapting to these climate challenges, including heat waves, extreme rainfall, intense cyclones, harsher fire weather, coastal storms and rising sea levels, that position Americold as a stand-out service provider. One thing that's for sure, customers will continue to expect product on shelves everyday rain, hail or shine. We will continue to learn and adapt to our changing world to service our customers in a sustainable, efficient, and timely manner."
For more information about Americold's energy-saving initiatives, access our sustainability page here.
Subscribe for Updates
Receive the latest news from Americold
Great! You've been successfully subscribed!