This year at the Seafood Expo of North America (SENA), all eyes will be looking toward innovative solutions that offer sustainability into the changing future, including US Cold Storage Warehousing Capacity.

The seafood industry, the economic market, consumer behavior, and even the oceans are all changing. And the food supply chain must keep pace with these shifting tides.

Americold is leading the way with supply chain solutions, including reliable cold-storage, integrated transportation, and comprehensive support services.

Americold invites you to this year's SENA show at the Boston Convention Center at Booth #675 to discuss these radical and rapid changes and to strategize about optimized supply chain solutions for your operation. We have answers to your questions and solutions for your challenges.
Tackling Tough Challenges

We recognize today's seafood suppliers are facing arduous challenges. We know that:

Consumption and demands are changing.

Catch and production trends are changing, including increased regulations to address overfishing.

Global threats continue to mount, forcing changes to supply chain routes.

The market is changing, e.g., the increase in aquaculture.
Meeting your needs for safe, supply-chain management requires flexible cold-storage capacity, integrated transportation, and specialized support like Drayage and Heavyweight Corridors.

As a supply-chain partner, Americold offers extensive, proven systems and capabilities. We secure your seafood products from point-to-point throughout your supply-chain journey with on-time and in-full delivery.

_____________
Download Free Guide
Learn more about how to Future-Proof your Seafood Cold Chain with Reliable Cold Storage and Optimized Logistics in our latest guide:
Your Guide to Future-Proof your Seafood Cold Chain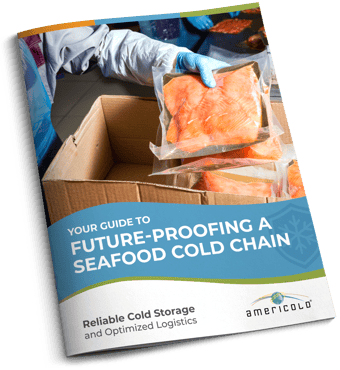 ______________

Seafood Supply Chain Solutions in BOOTH #675.

Come explore today's most innovative supply chain solutions at the Americold at Booth #675.

We are available to meet face-to-face, and we're ready to listen. We want to understand the precise issues you are facing in 2023 and into the future. And we want to help.

We have current storage capacity and are also expanding continuously to accommodate the changing needs. Learn about the Americold integrated US cold storage facilities along your supply chain routes as well as the ongoing development around the globe.

The Show Details: Americold at SENA 2023

Come visit us! You'll get your questions answered and find out how to optimize your entire Seafood Supply Chain.

Who: Americold, the Nor Am Cold Storage Warehousing Experts.
Where: BOSTON CONVENTION AND EXHIBITION CENTER
Booth #675

415 Summer Street
Boston, MA 02210
United States
When: March 12-14, 2023
Ask About Karaoke–don't miss out on the fun!
___________
If you are attending the show, let us know.
We'll make sure you have every chance to speak to an expert.

If you are reading this after the show and still have questions or want help, feel free to contact us. Use the link above. We have answers and can help.
Subscribe for Updates
Receive the latest news from Americold
Great! You've been successfully subscribed!