This year at Groceryshop, the focus is on creating an outstanding customer experience. Now, more than ever, this demands complex logistics and tailored solutions. Americold can help.
Americold is hosting booth A-1044 at the show, with answers to your questions and solutions for your challenges. Speak to the leading cold storage experts for the latest information on reliable cold storage capacity and tailored supply chain logistics. We'll help you optimize your grocery, CPG, produce, retail, frozen food, and e-commerce supply chain logistics.
Tailored Cold-Storage Solutions for Your Evolving Needs
All suppliers currently face an unprecedented combination of logistics challenges: space is limited, climate conditions are influencing growing seasons and transport, and inflation is impacting costs at all levels. Finding enough cold storage capacity with the right support services can be difficult.

Americold understands, and our teams are proactively working to provide a full range of solutions to help you get your products from point to point with efficiency and deliveries in full.

We're an ideal partner for all your 3PL needs, with:
Flexible Capacity at Integrated Facilities
Complete Transportation Solutions
Value-Added Services to Leverage Time in Cold Storage
Supply Chain Technologies to Support Efficiencies
Automation Options
Compliance Support
Depth of Expertise
_____________
Download Free Guide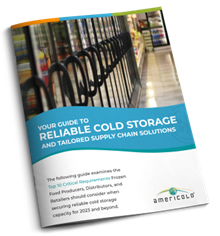 When choosing a cold storage partner for your optimized food supply chain, be sure to consider all critical factors required for reliable support long-term. Learn about them in our latest guide:
_____________
Cold Storage & Logistics Expertise at Your Show, and at Your Service!
We'll be at Groceryshop this year, booth A-1044, ready to meet with you face-to-face to listen. We want to understand the precise issues you are facing now in 2023 and into the future.

● We have solutions for cold storage capacity and for optimizing your particular set of challenges. Learn about the Americold integrated cold storage facilities along your supply chain routes as well as the expanding network around the globe with ongoing development.

● We also now offer e-commerce solutions to store, pick, pack, and ship direct-to-consumer. Our services provide direct delivery within 2 days to nearly 99% of the nation. Find out more about these fulfillment services and what Americold can do to support your changing needs.

You can also download our e-commerce Capabilities Overview here.

● We have new facilities and automation projects being added to the Americold network. We're keeping strides ahead in order to have the capacity and services available whenever you need them.

In fact, we're excited to discuss available automation options that can cut time and dollars off the labeling, packing, and processing phases of your product lifecycle. We've hired a top team of automation experts to innovate continuously in this area. Stay tuned for the latest information about what's new and evolving.
_____________
Americold at Groceryshop:
Come visit us! Americold, the Cold Storage Warehousing Experts.
You'll get your questions answered and find out how to optimize your supply chain.

Where:
Mandalay Bay, Las Vegas
BOOTH A-1044
3950 S Las Vegas Blvd, Las Vegas, NV 89119
United States

When:
September 18-21, 2023

_____________
If you are attending the show, let us know.
We'll make sure you have every chance to speak to an expert.

If you are reading this after the show and still have questions or want help, feel free to contact us. We have answers and can help.
Subscribe for Updates
Receive the latest news from Americold
Great! You've been successfully subscribed!