If you're heading to Atlanta's NPFDA or IPPE shows, make your way to Americold's Suite (Hyatt Regency Atlanta, Suite 222) for a discussion on Nor Am cold storage and logistic solutions.
Americold has answers to your questions and solutions for your challenges. Speak to a protein expert to discuss your protein supply chain and hear how we can support you with information on long-term cold storage capacity. You'll also hear tips to help optimize your protein supply chain logistics.
Solving Cold Storage Logistics Challenges for Protein Producers
Protein producers are facing a combination of peaking logistics challenges, including: the need for an increasing number of distribution channels, transportation disruptions, flock health crises and knee-jerk importer reactions, weather events, inflation, rising real estate costs, and changing technologies. Finding enough cold storage capacity with the right support services can be difficult.
Americold has a full range of solutions to help you get your products from point-to-point with efficiency and deliveries on time and in full. We're the ideal partner for your temperature-controlled supply chain needs, with:
Flexible Capacity Opportunities and

Room to Grow

Value-Added Services to Leverage Time in Cold Storage

Full Suite of Transportation Solutions

Compliance Support and a

Depth of Protein Expertise

Americold Farmers' Enhanced Protein Solutions

Integrated Technologies
Experts at Your Service in Suite 222
We're staffing up for the NPFDA show so we can meet you and listen. We want to understand the issues you are facing. And we want to help you find great solutions to optimize your particular set of challenges.
We'll be ready to share details about capacity in existing cold storage facilities within our integrated network in North America, and overseas if relevant. We're continuing to expand our network with automated, conventional, and port-specific projects in development - planning ahead to have the capacity and services available when you need them.
_____________
When choosing a cold storage partner for your proteins, be sure to consider the most important factors for reliable support long-term. Learn about them all in our latest guide:
7-Best Practices for Securing Protein Cold Storage Capacity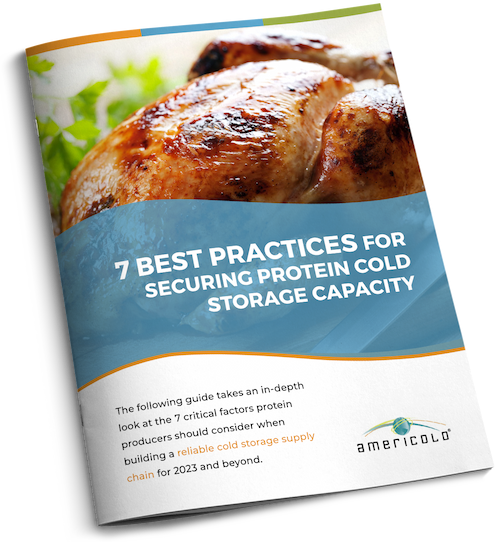 ______________

Conference Connections–NFPDA and IPPE
These two annual gatherings are opportunities for the industry to share information on needs, capabilities, tech, and available opportunities. We hope to see you there and strategize the best ways to optimize your supply chain logistics in 2023 and beyond.

The Show Details:
Who to see: Americold, the Protein Experts. Get your questions answered.
Where: Hyatt Regency Atlanta, Suite 222
265 Peachtree Street Northeast
Atlanta, GA 30303
United States
When: January 23-26, 2022
___________
If you are at the show, let us know. We'll make sure you have every chance to speak with one of our experts.
Even if you don't make it to the show, feel free to contact us by clicking the button above. We'll contact you to discuss your needs.
Subscribe for Updates
Receive the latest news from Americold
Great! You've been successfully subscribed!